WE'RE CURRENTLY HIRING FOR:
We're always looking for great caregivers to serve in the field. We value the work that our caregivers do each day, and we want to show our appreciation. Therefore, each caregiver, working 30 hours or more per week, may be eligible for the following employment benefits. To apply, download the application below and submit it to resumes@hratexas.org.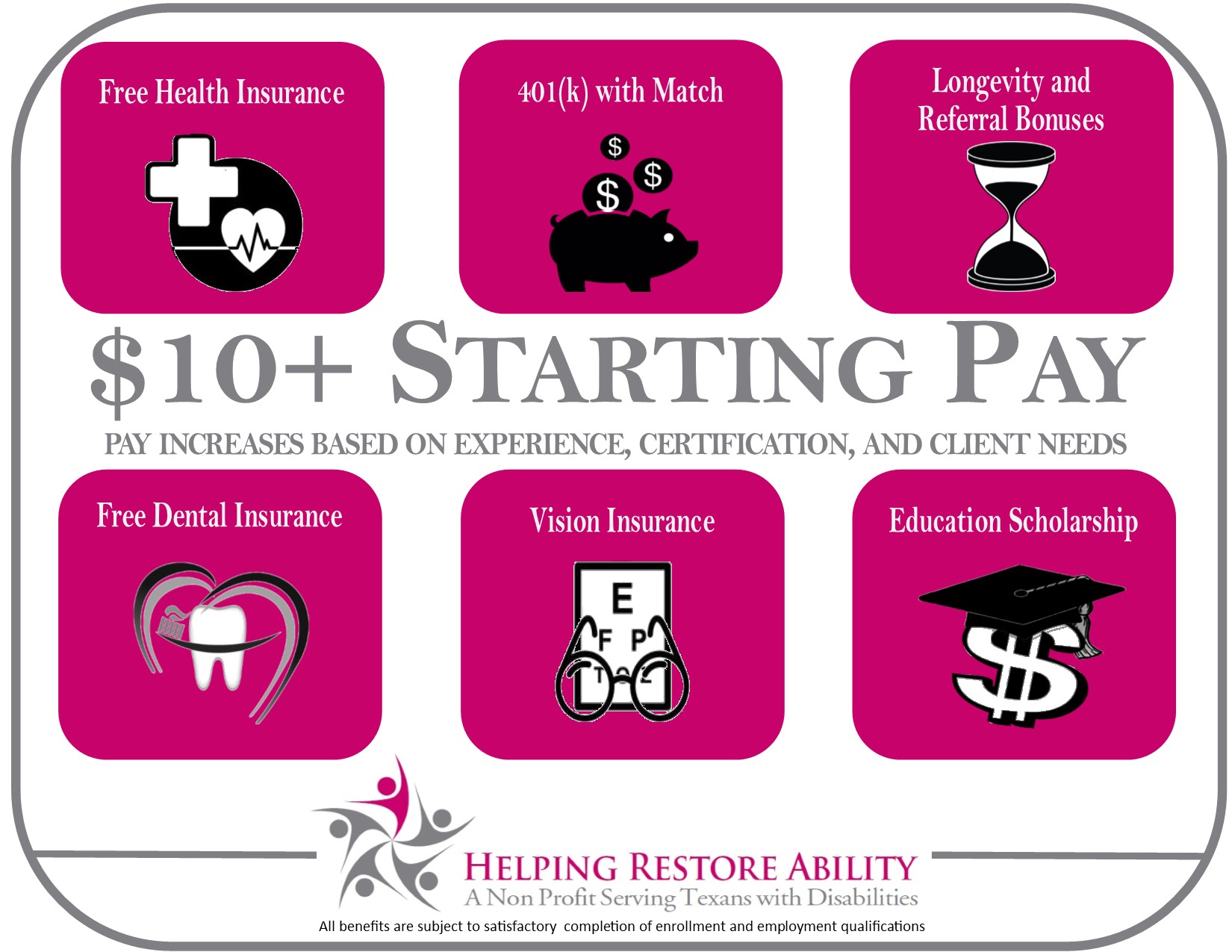 PCAT – Personal Care Attendant Trainer
As our PCAT, you will provide fill-ins for all shifts not covered by a regularly-assigned caregiver. You will also train our Attendants during their first shift with a new client. The successful candidate will be a self-starter, team player, and with a flexible schedule that enables you to adjust to changing priorities often. This position is full time, and requires current, valid CNA licensure, a Driver License, and willingness to drive. (You will be reimbursed for mileage.) Compensation range is $12 to $13 per hour, depending on experience.

Personal Care Attendant
We're always looking for great Attendants to care for our PAS clients in the clients' homes. We've recently increased our base pay to $10 per hour! Currently, we need caregivers in these areas:
N Fort Worth/Keller (76244)
N Fort Worth/Saginaw (76179) – evenings
N Fort Worth (76137) – evenings
S Fort Worth (76115) – caregiver can be male or female – 2 dogs in household
S Fort Worth/Crowley (76036)
SW Fort Worth (76123) – caregiver can be male or female – evenings
Denton (76210) – evenings (possible day shifts)
We need female caregivers for all locations unless specified otherwise.
To apply, download the application for completion, and scan/email it to HR at resumes@hratexas.org or fax to 817-461-2334. We look forward to hearing from you!
Questions? Email our HR department at resumes@hratexas.org
IMPORTANT: This application is not for CDS use. The CDS caregiver application is available on Our Programs page under "CDS Forms".