WE'RE CURRENTLY HIRING FOR:
Caregivers and Field Staff
We're always looking for great caregivers to serve in the field. Caregivers assist indivduals with disabilities with "Activities of Daily Living" (ADL) including bathing, cooking, light housekeeping, and companionship services. 
We value the work that our caregivers do each day, and we want to show our appreciation. Therefore, each caregiver working 30 hours or more per week may be eligible for the employment benefits listed below. To apply, complete the the application below via Docusign.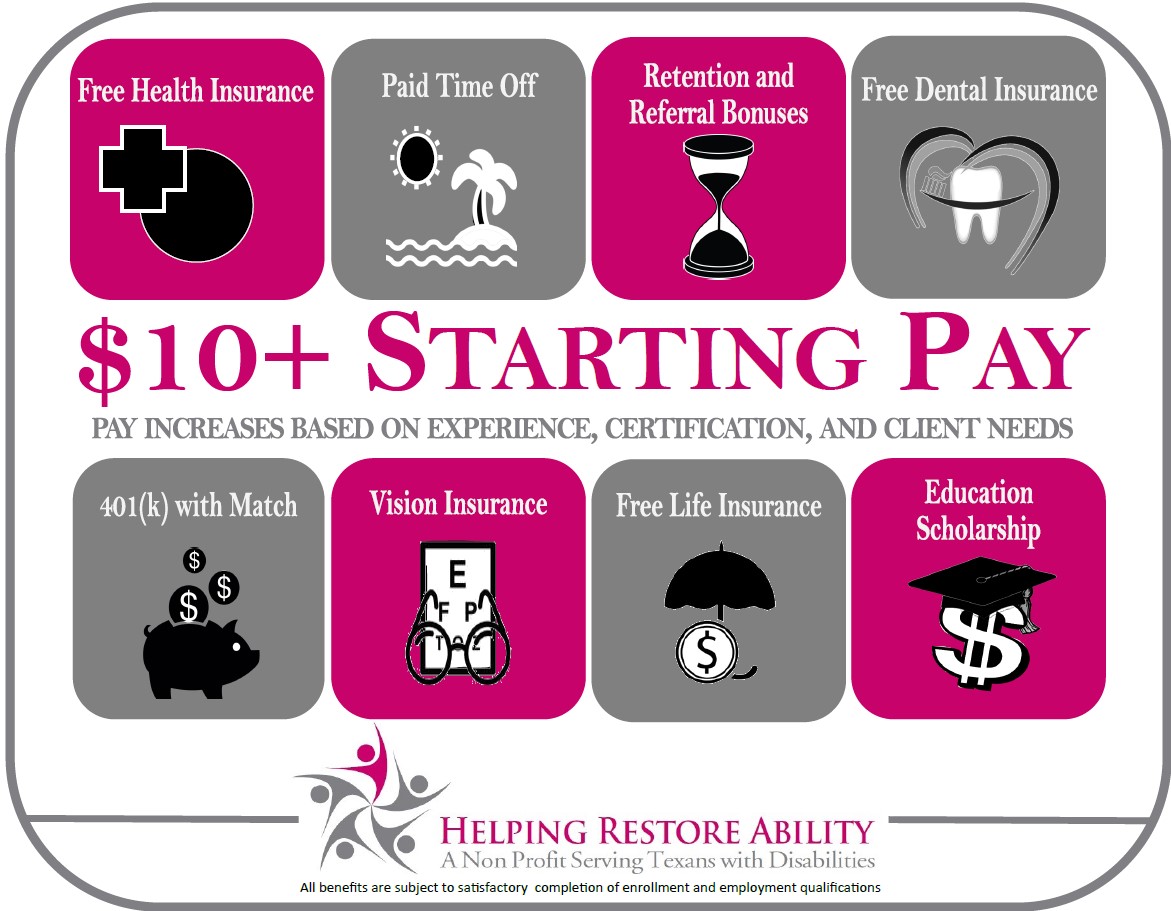 Administrative Office Positions
Our administrative positions are based in the Arlington, TX headquarter offices located off I-20 and Matlock Rd. Full-time employees are offered a range of benefits exceeding industry standards, and highly competitive pay. For additional questions, please email resumes@hratexas.org.
Director of Research: Establish and maintain relations with community partners to expand services to under-served populations; Communicating results of data analyzed in a clear and organized form and suggest any changes if necessary; Design appropriate methods of data collection, preparing publication-quality graphics, and assisting in manuscript preparation and literature review as needed; Use statistical software and GIS to provide detailed reports of HRA clients; Create predictive models of disease growth to inform organization choices for future growth. See Full Job Description Here
Administrative Assistant / Reception Support: Under the general oversight of Staff Accountant and in accordance with established policies and procedures, the Administrative Assistant is responsible for providing primary administrative support to the Executive Team as well as providing backup support for other departments while providing front desk receptionist coverage.  See Full Job Description Here
Staff Accountant: Under the direction of the Chief Programs Officer, and in accordance with established policies and procedures, the Staff Accountant will perform detailed financial analysis, accounts payable, general ledger, month-end reporting, and additional duties as assigned.  See Full Job Description Here
Personal Care Attendant (Floater): Reporting to the Care Coordinator. For Home Health Purposes, provides direct patient care under the direction of the Care Coordinator and according to the Aide Plan of Care. This includes, but it not limited to assisting patients with safe transfers and ambulation per agency policy.  Reporting and documenting pertinent information and care rendered to patients to ensure continuity of care. Complies with HIPAA, accepted infection and safety precautions, and all other requirements required by licensure.  See Full Job Description Here
Current HRA staff may find important forms for download here. 
IMPORTANT: This application is not for CDS use. The CDS caregiver application is available on Our Programs page under "CDS Forms".