WE'RE CURRENTLY HIRING FOR:
Caregivers and Field Staff
We're always looking for great caregivers to serve in the field. Caregivers assist indivduals with disabilities with "Activities of Daily Living" (ADL) including bathing, cooking, light housekeeping, and companionship services. 
We value the work that our caregivers do each day, and we want to show our appreciation. Therefore, each caregiver working 30 hours or more per week may be eligible for the employment benefits listed below. To apply, complete the the application below via Docusign.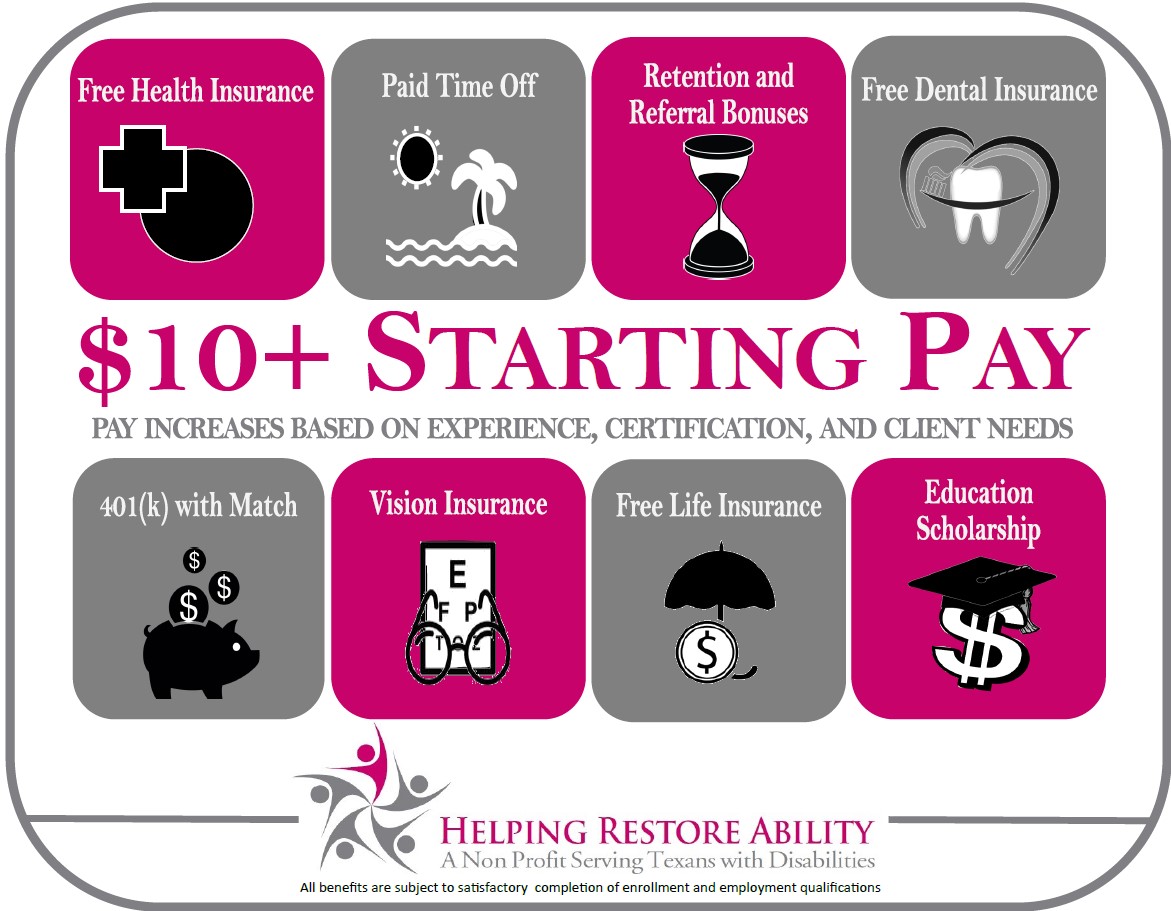 Administrative Office Positions
Our administrative positions are based in the Arlington, TX headquarter offices located off I-20 and Matlock Rd. Full-time employees are offered a range of benefits exceeding industry standards, and highly competitive pay. For additional questions, please email resumes@hratexas.org.
Payroll Specialist
The Payroll Specialist (FMS Support Specialist) provides Customer Service support to Financial Management Support Clients including payroll, new employee hiring and expense reporting services in accordance with program guidelines and state regulations as well as providing resources and information to current and potential clients over the phone and through email. See full job description. (HERE)
CNA – PCAT (Personal Care Attendant Trainer)
As our PCAT, you will provide fill-ins for all shifts not covered by a regularly-assigned caregiver. You will also train our Attendants during their first shift with a new client. The successful candidate will be a self-starter, team player, and have a flexible outlook that enables you to easily adjust to changing priorities. This position is full time, and requires current, valid CNA licensure; a current, valid Driver License; and willingness to drive. (You will be reimbursed for mileage.) See full job description (HERE)
Current HRA staff may find important forms for download here. 
IMPORTANT: This application is not for CDS use. The CDS caregiver application is available on Our Programs page under "CDS Forms".