WE'RE CURRENTLY HIRING FOR:
Caregivers and Field Staff
We're always looking for great caregivers to serve in the field. We value the work that our caregivers do each day, and we want to show our appreciation. Therefore, each caregiver working 30 hours or more per week may be eligible for the following employment benefits. To apply, download the application below and submit it to resumes@hratexas.org.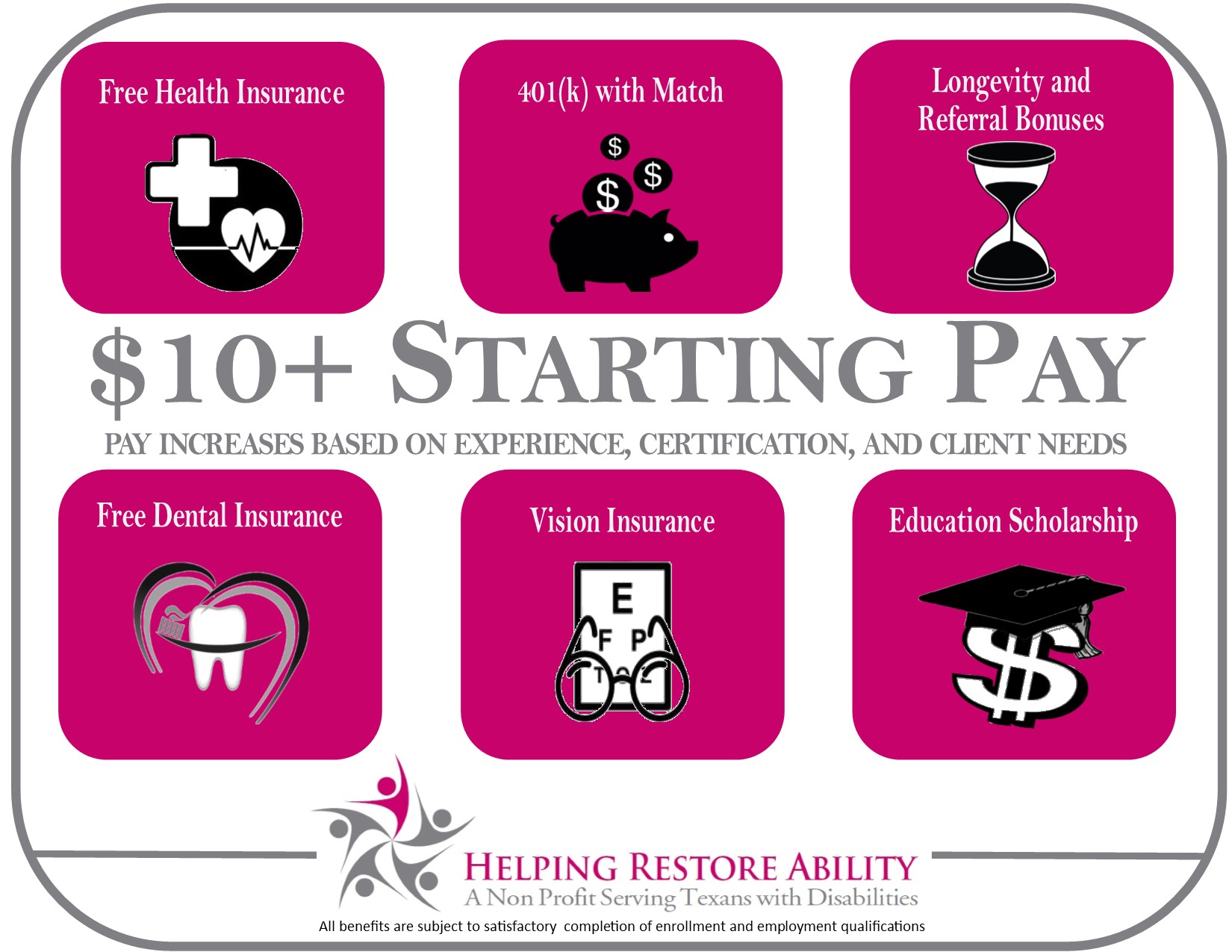 Admistrative Office Positions
The following positions are based in the Arlington, TX headquarter offices located off I-20 and Matlock Rd. Full-time employees are offered a range of benefits exceeding industry standards and highly competitive pay. For additional questions, please email resumes@hratexas.org. 
Special Events Coordinator  will have primary responsibility for planning and executing the vision of all special events, fundraising events and outreach, and other community involvement opportunities. Additionally, the Special Events Coordinator will support the Development Department with administrative roles and responsibilities. (Special Events Coordinator Full Posting)
Medical Billing Analyst provides senior level billing expertise/support to promote the agency's billing collection, compliance and accounts receivable efforts. (Medical Billing Analyst II Job Descrip-REVISED 080117 Full Posting)
Administrative Assistant/Customer Service Representative will assist the Personal Attendant Services Department and Chief Programs Officer /Alternate Administrator with personnel, payroll, procurement, and business administration of PAS Department programs. (Administrative Assistant- PAS 9.5.19 Full Posting)  
To apply, download the application for completion, and scan/email it to HR at resumes@hratexas.org or fax to 817-461-2334. We look forward to hearing from you! Questions? Email our HR department at resumes@hratexas.org
IMPORTANT: This application is not for CDS use. The CDS caregiver application is available on Our Programs page under "CDS Forms".