Priority hiring will be given to those willing to accept a client in the following zip codes:
76051, 76119, 76117, 76107, 75054, 76119, 76059
This section is for HRA new agency attendants only.
If you are an attendant for a CDS client, please request an application HERE. Filling out the below application for a CDS client will delay your employment processing.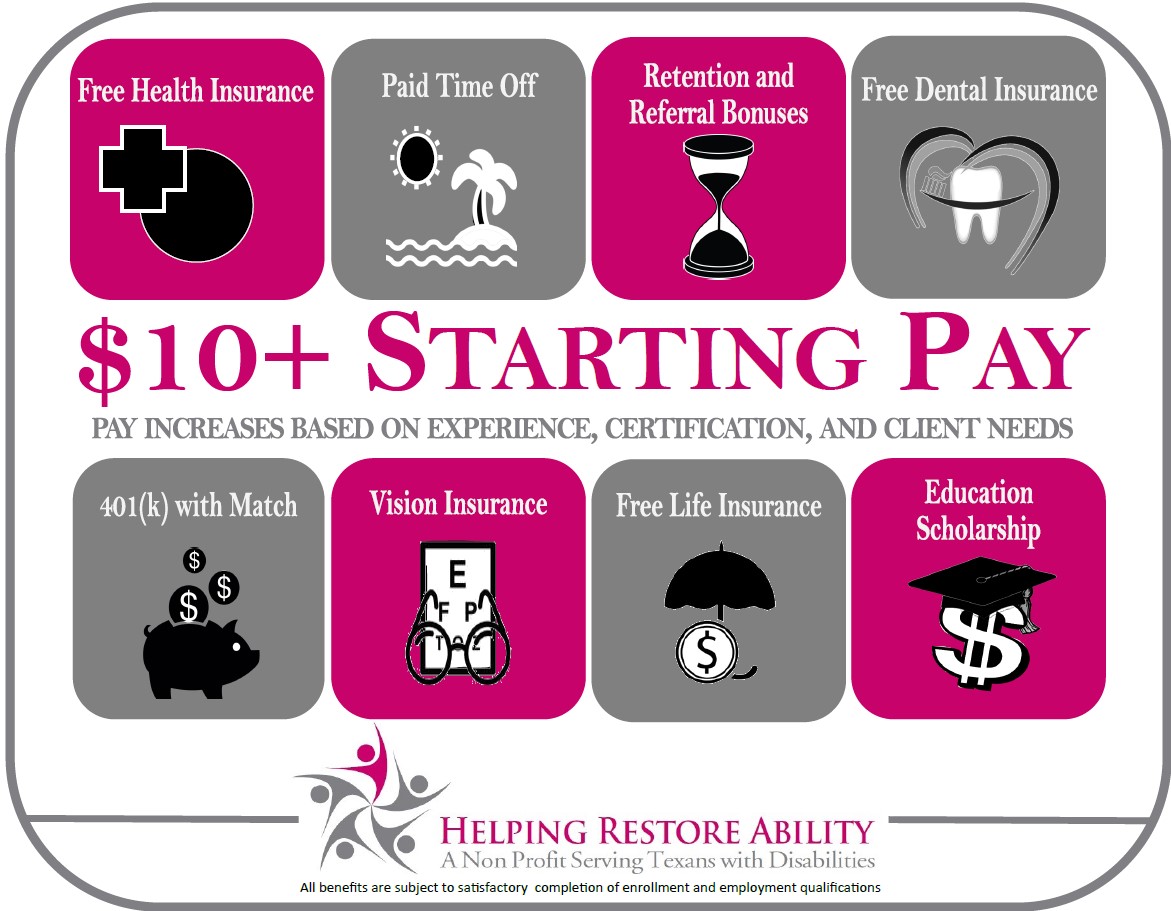 Employment Benefits
$10 minimum pay
Paid Time Off
Free Healthcare Insurance (paid upgrades available)
Dental and Vision Insurance
Free Life Insurance
Education Scholarships
Free Financial Management Coaching
401K Plan with Company Match
Career Growth Opportunities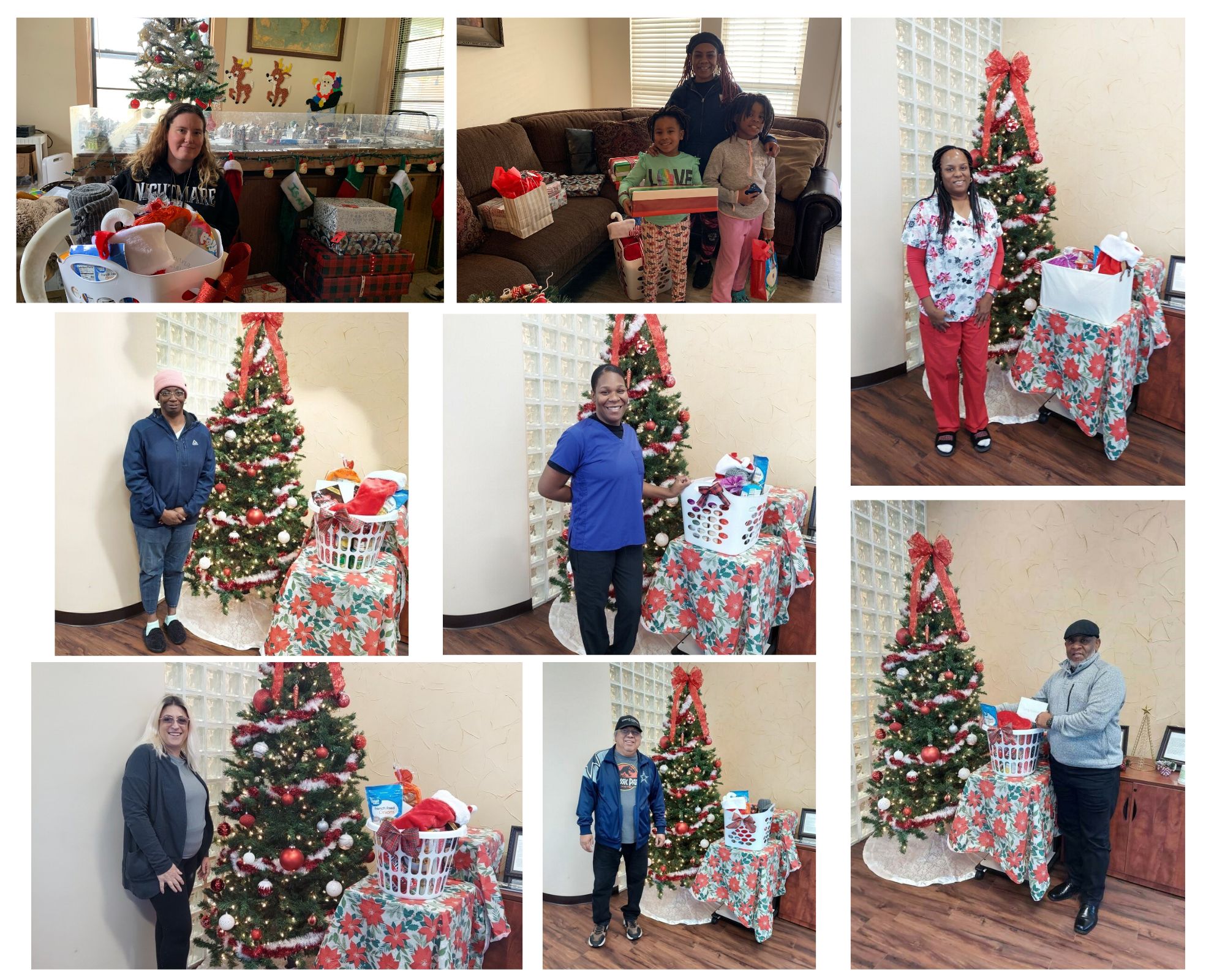 Personal Care Attendant, Arlington
Base Pay: $10.00 / Hour
Summary
Primary function is to provide personal attendant services and work cooperatively with the client.  Share observations and problems with his/her supervisor.  Works under the direction of the Client and Attendant Supervisor.
Description
Provides general housekeeping activities for the client/consumer, as directed by the Plan of Care.
Provides direct care to client/consumer under the direction of the Attendant Supervisor and the Plan of Care.
Assists the client with safe transfers and ambulation per agency policy.
Reports changes in client condition and documents pertinent information and care rendered to client/consumer on timesheets, incident reports, etc. Reports observations of abuse, neglect or exploitation to supervisor immediately.
Practices accepted infection control principles.
Maintains a clean, safe, and comfortable environment for the client as far as is possible within the constraints of the client's home and resources.
Promotes positive, supportive, respectful communication to client/consumer, family, and other employees.
Promotes respect for client's privacy and property.
Assists the client with proper nutrition and adequate fluid intake, as needed.
Demonstrates core values: Provide flexible services, based on client preferences; Be compassionate, reliable and trustworthy; Goes the extra mile for the clients served; takes ownership of responsibilities, makes good first impressions.
Reports to work as scheduled and reports planned absences at least two weeks in advance.
Calls or has his/her representative report emergency absences to Attendant Manager prior to scheduled shift.
Attend annual training meeting and complete required assigned training modules.
Requirements
Education: Prefer High school diploma/GED or Competency test with two (2) verifiable references.
Skills: Must be able to communicate effectively with assigned client/consumer.
Licensure: Pass checks of criminal background, Employee Misconduct Registry and OIG Medicaid Exclusion list.
Experience: One year supervised personal care attendant experience or providing similar services to individual(s) with disabilities.
Other: Must be at least 18 years old.
Transportation: Reliable transportation. Valid and current driver's license and auto liability insurance is required, if position requires transportation.
Other Caregiving Opportunities
Personal Care Attendant Floater ($13/hour): For Home Health Purposes, provides direct patient care under the direction of the Care Coordinator and according to the Aide Plan of Care. This includes, but is not limited to assisting patients with safe transfers and ambulation per agency policy. Reporting and documenting pertinent information and care rendered to patients to ensure continuity of care. Complies with HIPAA, accepted infection and safety precautions, and all other requirements required by licensure. (See Full Job Description)
Lead Attendant ($14-$15/hour): Reporting to the Care Team Manager, the Lead Attendant may fill in initially or intermittently to provide care to clients as needed; assists in field orientation and training of attendants; and provides administrative support to the PAS Department as directed. For Home Health Purposes, provides direct patient care under the direction of the RN and according to the Aide Plan of Care.  This includes, but it not limited to assisting patients with safe transfers and ambulation per agency policy.  Accurately reporting and documenting pertinent information and care rendered to patients to ensure continuity of care. Complies with HIPAA, accepted infection and safety precautions and all other requirements required by agency licensure. (See Full Job Description)